What is Corian®?
Corian® is a unique solid surface material made from an advanced blend of natural minerals and acrylic polymer.  Since it's creation 35 years ago, Corian® has proven itself to be a remarkably durable, versatile material that's easy to live with in both residential and commercial environments.  Today, Corian® is used for kitchen countertops, vanities, and shower surrounds, as well as wall cladding, toilet partitions, signage, elevator cladding and much more!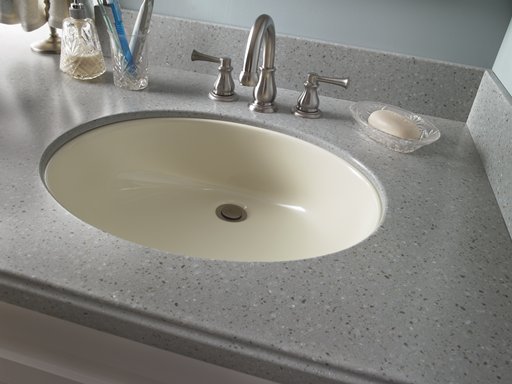 A sheet of Corian® is like canvas for your imagination. After all, you can do nearly anything with it. Rout it. Carve it. Sandblast it. Thermoform it. Stack it. Backlight it. Even inlay virtually any other material, like wood, tile, metal or other colors of Corian®. With seamless backsplashes and inline sinks, the design options are unparalleled. And with over 100 colors to choose from, you're sure to find the perfect shade.
Corian® 1/2″ sheets are available in 2 sizes: a standard sheet (1/2" x 30" x 144") and a half sheet (1/2" x 30" x 72").  Some colors are also available in 1/4" or 3/4" thicknesses, or 36.6" widths.
Expressive
With over 130 colors, three finishes, and special touches like inlays, coved backsplashes, and edge treatments, Corian® is a designer's dream material.
Formable
The versatility of Corian® adds to its appeal.  You can cut it, carve it, rout it, drill it, sculpt it, bend it, thermoform it, backlight it… if you can imagine it; chances are you can create it with Corian®.
Easy to Work With
Corian® offers design versatility, function, and durability far beyond the scope of conventional materials; yet Corian® surfaces can be fabricated with traditional tools and techniques.
Durable
Corian® survives the impacts, nicks and cuts that mar most surfaces.  It lasts a long, long time, postponing the need for costly tear-out and replacement.
Stain-Resistant & Easy to Clean
Because Corian® is nonporous, liquids and stains can't penetrate.  Soapy water can clean most dirt and residue so it's easy to clean, whatever the spill.
Renewable
Corian® can be restored to its original state using a green Scotch-Brite® pad and an ordinary abrasive cleaner.  More severe damage can even be repaired on-site.
Hygienic
Unlike tile or wood, Corian® has no visible pores or voids so it does not promote the growth of mold, mildew or bacteria.  When Corian® looks clean, it really is.
Inert, Non-Toxic and Hypoallergenic
Corian® doesn't react with other chemicals or elements, and is non-toxic and hypoallergenic in normal room temperatures.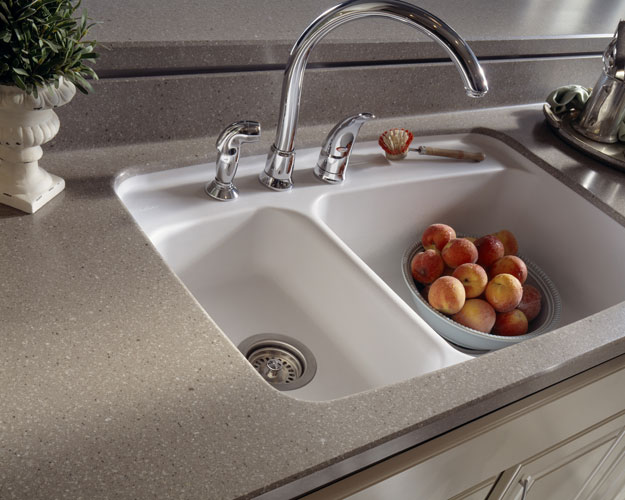 Corian® Sinks
These sinks come in several styles and colors, and can be sub-mounted to create the seamless look that everyone loves
Corian® Lavatory Bowls
Corian® Lavatory Bowls – Corian® lavs are beautiful, functional and durable options for the bathroom.  A variety of colors and styles are available to coordinate with any décor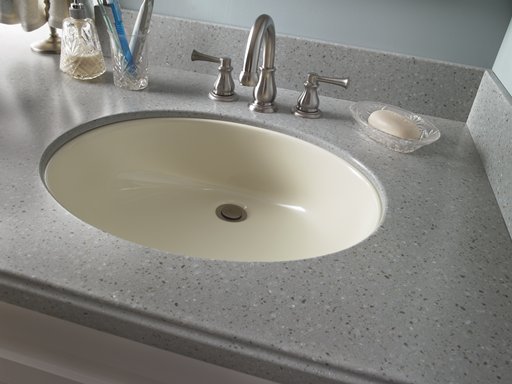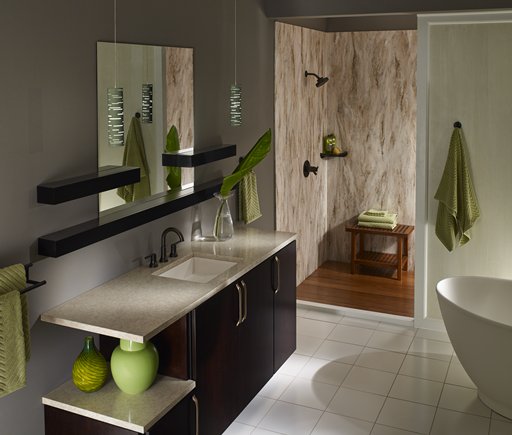 Corian® Shower Bases
A Corian® shower base is a great complement to any residential or commercial shower!  These bases are made by DuPont Certified Fabricators so you're sure to get top-quality craftsmanship, and since they are made with Corian®, you can count on an easy to clean, easy to maintain surface.  Our Corian® shower bases are available in popular standard sizes, but can also be made in exceptionally large, irregularly shaped or ADA-compliant styles as well.
Top Notch Kitchen & Bath Accessories
These kitchen and bath accessories add the perfect finishing touches to your Corian® installation.  Items are expertly crafted and individually hand-sanded and polished.  Choose from soap dishes, towel bars, electrical switch plates, shower caddies and more!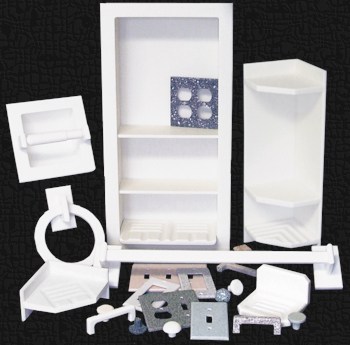 Environmentally Responsible
Corian® is non-toxic, non-carcinogenic, and chemically non-reactive.  It does not decompose over time or contaminate ground or water resources, so it does not affect nearby vegetation when it is discarded in a landfill.

Contributing to Green Building Design
The U.S. Green Building Council developed the LEED Green Building Rating System as a standard for designing high-performance, sustainable buildings.  Since Corian® is a long-lasting, easily repaired material that emits low VOCs, it can help your project earn LEED points in several categories.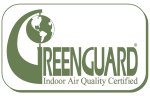 GREENGUARD Indoor Air Quality Certified
Corian®, its adhesives and its sealants have been tested by the GREENGUARD Environmental Institute, and have surpassed their requirements for indoor air quality and low volatile organic compound (VOC) emissions.
Sustainable Design
Learn more about the sustainable design of Corian® products