Sophisticated
The quartz crystals in Corian® Quartz capture and reflect light, bringing a lively and unique look to any application.  The expansive color palette ranges from a subtle effect created by finer crystals to a more dramatic impact achieved with larger crystals that shimmer and add radiance to the surface.
Durable
Quartz is one of nature's hardest materials, making Corian® Quartz extremely resistant to scratches, chips, cracks and chemicals.  In addition, the beauty of the quartz runs all the way through the Corian® Quartz slabs, so the color won't wear off or rub away.
Uniform
The controlled manufacturing processes used to create Corian® Quartz assure that there is consistent color, shading and quartz crystal distribution from slab to slab, so there are no unpleasant surprises when countertops are installed.  And with Corian® Quartz, the color palette goes beyond that of unimproved stone, without the cracks or irregularities.
Stain-Resistant
The smooth, nonporous surface of Corian® Quartz will resist stains and retain its luster for years without the need for sealants or waxes.  A damp cloth or paper towel can clean most dirt, and if necessary, a small amount of non-bleach, nonabrasive cleanser can be used to remove any stubborn residue.
What is Corian® Quartz?
Corian® Quartz is 93% pure quartz crystal, which gives Corian® Quartz a natural depth and radiance without the imperfections common in unimproved stone.  And because quartz is one of nature's strongest materials, Corian® Quartz is also incredibly durable and resists both heat and scratches.  Custom-fit to your exact specifications and virtually maintenance free, Corian® Quartz is perfect for your home and many other applications.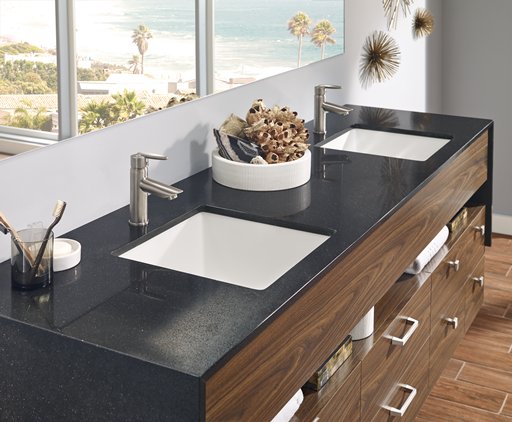 Hygienic – Unlike tile, wood or unsealed granite, Corian® Quartz has no pores or voids so it does not promote the growth of mold, mildew or bacteria. When Corian® Quartz looks clean, it really is.  
GREENGUARD Indoor Air Quality Certified – Corian® Quartz has been tested by the GREENGUARD Environmental Institute, and has surpassed their requirements for indoor air quality, low volatile organic compound (VOC) emissions.  
Contributing to Green Building Design – The U.S. Green Building Council developed the LEED Green Building Rating System as a standard for designed high-performance, sustainable buildings. Since Corian® Quartz is a long-lasting material that emits low VOCs, it can help your project earn LEED points in several categories.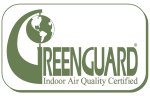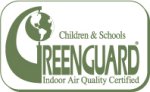 To view all current colors of Corian® Quartz including full slab images if available, please follow the link.
Corian® Quartz Colors
Uses of Corian® Quartz
With its strength and luster, Corian® Quartz is an elegant choice for those who love the beauty of real stone.  Corian® Quartz can be used for countertops, tabletops, wet bars, vanity tops, shower and tub surrounds, home offices and even vertical applications like walls and facings.