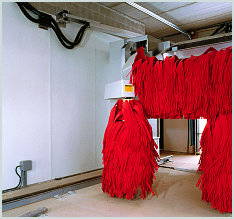 Parkland Plastics is a line of waterproof wall panels and ceiling tiles that are ideal for areas where water damage and mold could be potential problems. Parkland Plastics offers a variety of products, each with different performance properties, so you're sure to find the perfect wall panel or ceiling tile for virtually any application.
Parkland Plastics panels are commonly used in residential laundry rooms, garages and bathrooms, and are perfect for commercial restaurants, convenience stores, car washes, animal kennels, laboratories and a variety of other areas.
PLAS-TEX wall panels provide a logical alternative to fiberglass when the wall needs to be waterproof, sanitary, durable and easy to clean. And PLAS-TEX helps you build green because it's made totally of recycled plastic and any scrap can be recycled.
With PLAS-TEX wall panels, you have your choice of PolyWall, which is a matte textured panel, or you can choose NRP which has the familiar cracked-ice/pebble texture of FRP. Whichever you choose, the result is a 100% waterproof, highly durable and easy-to-maintain surface that will not support mold, mildew or bacteria growth. These panels are installed quickly and easily using Parkland Panel Adhesive, and they can be cleaned with common household products.
PLAS-TEX is an outstanding wall surface for restaurants, kitchens, labs, laundry facilities and other areas that demand waterproof performance as well as a good appearance.
A more decorative option than the PLAS-TEX panels, the DURO-LUX flexible stone panels feature an attractive, stone-filled, three-dimensional granite appearance with exceptional performance characteristics. they are ideal for a wide range of applications including restaurant atriums, apartment lobbies, bathrooms, kitchens, accent walls, counter facings and wainscoting. The unique laminated surface can be applied to PVC, gypsum board, lightweight plywood or Parkland's PLAS-TEX panel, depending on application requirements.
With a substantial weight advantage over natural stone materials, DURO-LUX is easy to handle and can be fabricated using standard hand tools. It features a high resistance to impact, does not chip and can be sanded to remove scratches. Chemical and stain resistant, DURO-LUX is also 100% waterproof. It can be cleaned with solvents and industrial cleaners and renewed with mild abrasive cleansers. DURO-LUX panels are available as solid or simulated tile panels in a selection of colors.
SpectraTile Ceiling Tiles
SpectraTile ceiling tiles are the only completely waterproof lay-in ceiling tiles on the market! Available in four attractive designs, these PVC tiles are a virtually maintenance-free choice for commercial environments.
SpectraTiles can be washed, scrubbed and even pressure washed, and with an extended product life and ten year warranty, they are guaranteed not to flake, break, or create dust. And since these tiles are non-absorbent, they will not swell, bow, rot or discolor because of water. These tiles resist mold, mildew and bacteria growth – they even achieved a perfect score on the ASTM Mold Resistance Test!
When fire performance is a major concern, MagnaTile ceiling tiles are the ideal choice. MagnaTile ceiling tiles feature a 100% waterproof polymer surface over dense mineral alloy for superior fire performance without sacrificing cleanability. These are special fire-rated tiles that will not burn when exposed to temperatures up to 700°F. This product is tested to zero flame spread and smoke development, so when it's installed in an appropriate fire-rated grid system, MagnaTile can be part of a fire-rated building system.
These tiles are available in acoustic, textured and custom finishes. MagnaTile features no corrosive or noxious materials, does not support the growth of mold or mildew, and is VOC-free. MagnaTile also comes with a 5-year warranty.
Technical bulletins address compliance issues and provide detailed information on specific test methods, fabrication and installation procedures, and performance characteristics for Parkland Plastics.  Downloadable .pdf files can be accessed below.  To view these files, you must have Adobe Acrobat Reader software installed.  Adobe Acrobat Reader is available for free – download it from
www.adobe.com
.
PLAS-TEX Wall Panels
SpectraTile Ceiling Tiles
MagnaTile Ceiling Tiles
Visit Parkland Plastics Website for More information!